COVID-19 Update
Following a Management Committee meeting on 7th July 2020 to discuss the requirements needed to re-open the Village Hall, the Committee have unanimously decided that they do not feel able to safely comply with current Government guidelines.
Therefore, the village hall will remain closed until guidelines make it feasible to re-open.
17th June 2020 – The Erpingham Mobile  Phone Mast will now not go ahead.
There is now a Paper recycling bin in the car park of the village hall. The proceeds are going to the upkeep of the MUGA. They have recently lost their major sponsor.
Please note it is for paper only, NOT CARDBOARD.
Hall closure due to COVID-19 21st March 2020
In the interests of public health & safety,   The Erpingham with Calthorpe Village Hall committee has taken the decision to close the hall until further notice.
If you have any questions please contact the bookings secretary, Rosalind Horne on 01263 761702.
As the Village Hall has closed and Coffee club suspended, the monthly 200 club draws will be suspended until the Village Hall is re-opened and coffee club resumes at which time all outstanding draws will be made.
Due to the current Government restrictions, the Village Hall AGM in April has now been cancelled and a new date will be published when things are back to normal.
Welcome to
Erpingham with Calthorpe Village Hall.
The recently redecorated Hall is available for hire and is an ideal venue for wedding receptions, christening parties, birthday and anniversary celebrations, wakes, exhibitions, theatrical and musical performances and other cultural activities. It is already used on a regular basis by the WI, U3A Art Appreciation, Erpingham School, Indoor Bowls Club, Wednesday Coffee Club, Pilates classes and various other groups.
Epingham Festival of Crafts.
Pilate class on a Monday 09.30 am – 10.20am.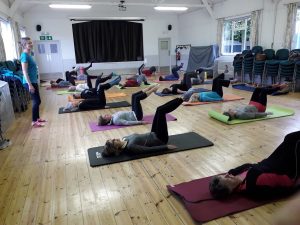 Kurling session. One of the many activities that take place in the village hall.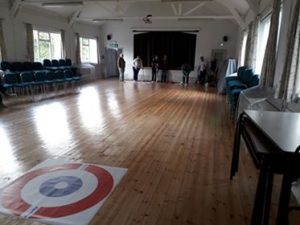 Short Mat Bowls every  Friday 2 pm – 4pm (April to September)
Carpet Bowls every Tuesday from 7 pm to 9 pm (April to September)