Welcome to
Erpingham with Calthorpe Village Hall.
Coronavirus: How to stay safe and help prevent the spread from 19th July 2021
• Test if and when you have symptoms
• Isolate if you test positive or are contacted by Test and Trace – this is still the law
• Continue to wear a mask in crowded environments
• Ventilate space where possible
• Minimise number, proximity and duration of social contact
• Covid pass recommended for larger events (organiser's responsibility)
• Exercise personal judgement
From Monday, 19th July 2021, England moves to stage four of the Government Road Map which was set out to guide the nation out of the Coronavirus pandemic. Covid19 has not gone away and everybody has a responsibility to remember actions to keep themselves and others safe. Changes that impact Erpingham with Calthorpe  Village Hall include:
• Social distancing requirements removed
• No limit on numbers
• No requirement to wear masks
• No requirement for table service and restrictions on singing and dancing removed
We will continue to operate enhanced cleaning – cleaning more often and ensuring that all touch surfaces are regularly disinfected. Signs will remain in place to remind users to wash hands and/or sanitise. Our Test and Trace QR code will still be displayed for those who wish to continue to use it, however, it is no longer a legal requirement to use any form of Test and Trace. Hirers should:
• Clean surfaces touched regularly (cleaning equipment will still be provided)
• Improve airflow where practical
• Not attend if unwell
• Exercise caution and consider risk
• Be aware of personal hygiene recommendations
From Monday, 16th August it will no longer be a legal requirement to isolate after coming into contact with a positive case of Covid19 if you are (double) vaccinated. However, if you test positive yourself, you must still isolate for a full 10 days from the start of symptoms or the date of your test if you are unsure.
The recently redecorated Hall is available for hire and is an ideal venue for wedding receptions, christening parties, birthday and anniversary celebrations, wakes, exhibitions, theatrical and musical performances and other cultural activities. It is already used on a regular basis by the WI, U3A Art Appreciation, Erpingham School, Indoor Bowls Club, Wednesday Coffee Club, Pilates classes and various other groups.
Erpingham Festival of Crafts.
Pilate class on a Monday at 09.30 am – 10.20am.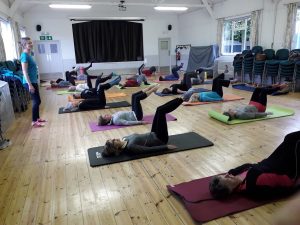 Kurling session. One of the many activities that take place in the village hall.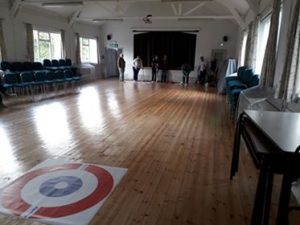 Short Mat Bowls every  Friday 2 pm – 4pm (April to September)
Carpet Bowls every Tuesday from 7 pm to 9 pm (April to September)